Projects In Design

Blackwater Office Park
86,000 SF Office/Industrial
Cambridge, Maryland
$15M Budget
Part of an overall master planned community, this office park for Blackwater Crossing has about 2,000 homes and an avenue retail project. Just up Route 16 from the Cambridge Hyatt, this corner parcel consists of 4.77 acres fronting Route 16 and Stone Boundary Lane.
Single-family homes will abut the rear property line, requiring increased sensitivity. Along Route 16 ADW designed these "sister" buildings elevated above at grade parking (covered), creating an edge to the street footage. A single-story building backed up to the residential area creates a visual compatibility to the single-family homes. A common green is a central gathering and green space for the office community.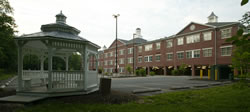 Atwood II
33,000 SF Office Condominium
Bel Air, Maryland
$6M Budget
Upon the successful completion of Phase I ADW showed Atwood Development LLC how an elevated parking deck and two additional floors of Medical/Professional office space could be captured, with no additional land cost. The new structure will be connected to Phase I with an elevated glass enclosed sky bridge at the second floor. Due to an increasingly hot office condominium market and tenants desire to obtain equity and tax advantages the new space will be sold and the existing building will go though a conversion to condominiums.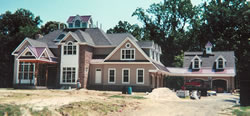 Dixon Residence
On Severn River
Severna Park, Maryland